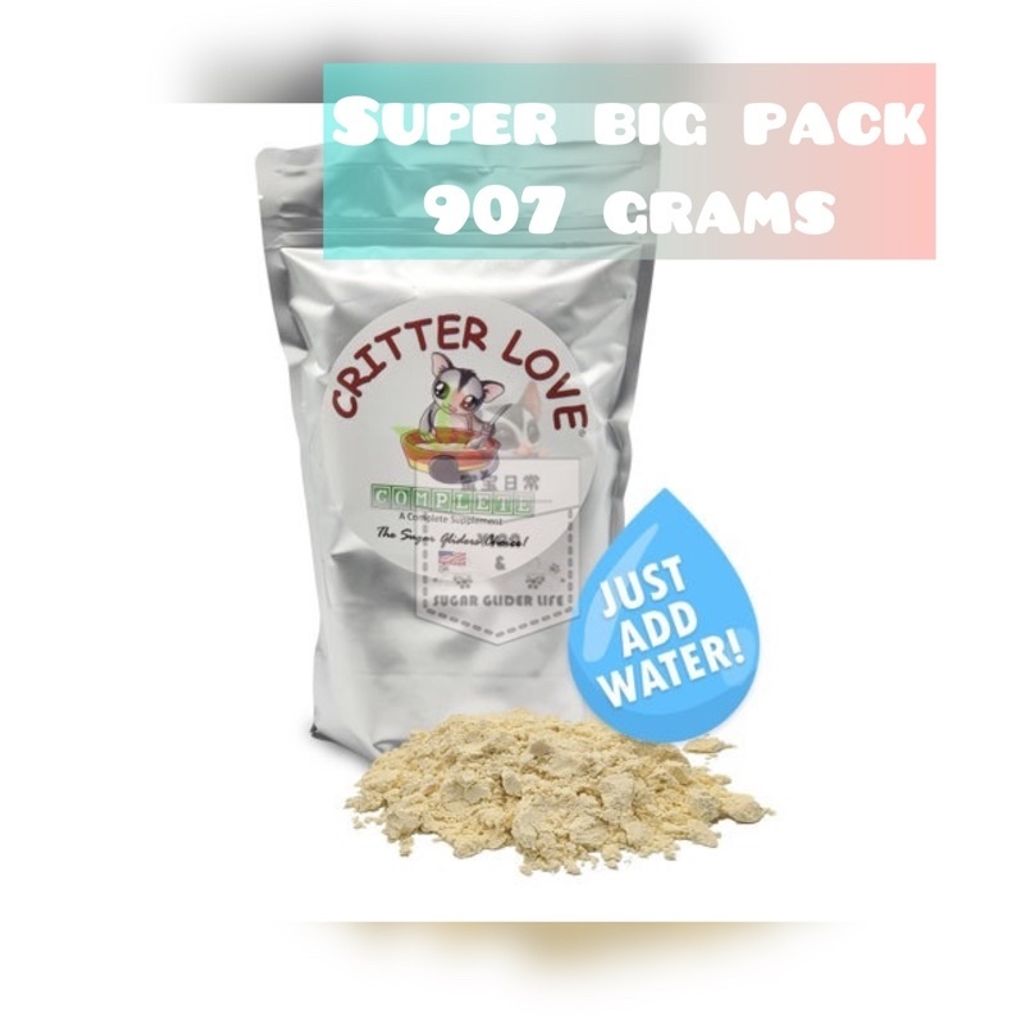 (Ready Stock) U.S. Critter Love® COMPLETE 907grams Sugar Glider Staple HPW /(現貨)美國Critter Love® COMPLETE 907克蜜袋鼯蛋白粉
數量 Quantity :
1包 1 Pack
份量 Volume :
原包裝 Original Pack 907grams
❤️ 特大包裝適合家裡非常多蜜蜜的蜜友。Super large package for owner that having a lot sugar gliders.
產品概要 Product Overview :
此產品專為人工飼養和飼養的寵物蜜袋鼯而開發,被用作為飲食的蛋白質來源。This product was developed to be used specifically for captive bred and kept pet sugar gliders.
It is to be used as the protein booster in their diet.

富有維生素,礦物質,氨基酸以及Omega 6 和 Omega 3 脂肪酸,包括亞麻籽油,並且還強化了鈣質。

This supplement contains vitamins, minerals, amino acids, as well as Omega 6&3 fatty acids including Flaxseed Oil and is also calcium fortified.

在有執照的獸醫和動物營養師的幫助下開發,以確保均衡膳食。

Developed with the aide of licensed veterinarians and exotic Animal Nutritionist, to ensure a balanced meal.
餵食方法 Feeding Instruction :
適合每天早上給小蜜當早餐,用於補充小蜜的蛋白質。It is suitable for breakfast every morning to sugar glider for supplementing protein.
A. 沖泡餵食 Brewing:
一隻蜜蜜的基本份量是2.5ml粉混合7.5ml溫水或常溫白開水(比例1:3)。如果蜜蜜常常喝不完,可以減少份量。
2.5ml powder mix with 7.5ml warm water or normal temperature drinking water to feed for per sugar glider. (Ratio 1:3) If sugar glider cannot finish every time, may make it lesser.
❤️ 30克試吃包可以提供一隻蜜蜜大約14天的份量喔。30g trial pack estimated to feed 14days for 1 sugar glider.
B. 冷凍收藏,解凍餵食 Freeze to Keep and Thaw to Feed:
68grams Critter Love® COMPLETE 粉 Powder
354grams 溫水 Warm Water

把所有材料加入攪拌機。Combine all ingredients in blender.
以最高速度攪拌2-3分鐘。Blend on High 2-3 Minutes.
根據餵食份量倒進冰格容器。Pour in Ice Cube Trays.

保存在冷凍庫。Keep In Freezer.
一只蜜蜜大約食量 - 14克(1匙) Critter Love® Complete 請解凍餵食。Serving suggestion per sugar glider - 14g (1 Tbsp.) Critter Love® Complete. Please thaw before serving.
材料 Ingredients :
乾蜂蜜,乾蛋製品,乾乳清蛋白濃縮物,蜂花粉,大豆濃縮蛋白,椰子油,穀物粉,葡萄糖,麥芽糊精,亞麻籽油,L-賴氨酸,碳酸鈣,磷酸二鈣,二氧化矽,DL-蛋氨酸,天然和人造香料,肌醇,煙酰胺,抗壞血酸,維生素E補充劑,硫酸亞鐵,生物素,泛酸鈣,維生素B12補充劑,硫酸錳,葉酸,維生素A醋酸鹽,甲萘醌亞硫酸氫鈉複合物(維生素 K3 的來源),硫胺素單硝酸鹽,亞硒酸鈉,硫酸銅,核黃素,鹽酸吡哆醇,硫酸鋅,碘酸鈣,維生素 D3 補充劑。
Dried Honey, Dry Egg Product, Dried Whey Protein Concentrate, Bee Pollen, Soy Protein Concentrate, Coconut Oil, Ground Cereal Grains, Dextrose, Maltodextrin, Flaxseed Oil, L-Lysine, Calcium Carbonate, Dicalcium Phosphate, Silicon Dioxide, DL-Methionine, Natural and Artificial Flavors, Inositol, Niacinamide, Ascorbic Acid, Vitamin E Supplement, Ferrous Sulfate, Biotin, Calcium Pantothenate, Vitamin B12 Supplement, Manganese Sulfate, Folic Acid, Vitamin A Acetate, Menadione Sodium Bisulfite Complex (source of Vitamin K3), Thiamine Mononitrate, Sodium Selenite, Copper Sulfate, Riboflavin, Pyridoxine Hydrochloride, Zinc Sulfate, Calcium Iodate, Vitamin D3 Supplement.
營養分析 Guaranteed Analysis:
粗蛋白質最低 14.0%,粗脂肪最低 2.0%,粗纖維最高 2.0%,鈣最低 0.2%,鈣最高 0.3%,磷最低 0.1%,硒最低 0.017PPM,維生素最低 A 1.6 KIU/LB。
Crude Protein min 14.0%, Crude Fat min 2.0%, Crude Fiber max 2.0%, Calcium min 0.2%, Calcium max 0.3%, Phosphorus min 0.1%, Selenium min 0.017PPM, Vitamin A min 1.6 KIU/LB.
儲藏方法 Storage Instructions:
收藏在乾燥陰涼的地方,開封后保存在真空罐,避免受潮。
Keep in cool and dry place. Once opened, keep in vacuum container to avoid powder hardened.
✅ 100%美國進口原包裝。100% Imported from USA Original Pack.
✅ 小蜜接受度較高的HPW。Higher acceptance by most of sugar gliders.
✅ 評價極好,幫助蜜蜜補充蛋白質。Highly recommended by customers.
✅ 幫助蜜蜜毛髮生長更健康柔順。Helps to make sugar glider fur smooth and healthy.
⚠️ 如果你收到一批顏色較深的 Critter Love® Complete,請不要驚慌。我們在產品中使用的蜂蜜和蜂花粉比正常情況下顏色更深。這是正常現象,不會影響我們產品的營養成分。If you receive a darker batch of Critter Love® Complete, please do not be alarmed. Our honey and bee pollen that we use in our product is darker than normally. This is normal and does not affect the nutritional content of our product.
---